Yandex
Yandex is one of the largest internet companies in Europe, operating Russia's most popular search engine.
We provide user-centric products and services based on the latest innovations in information retrieval, machine learning and machine intelligence to a worldwide customer audience on all digital platforms and devices.
Headquartered in Moscow, we have development and sales offices in 17 locations across nine countries.
Visit and enjoy the site
Yandex
, belonging to category
Russia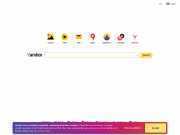 Related sites Yandex