Tunisia Seek
Tunisian portal page with Tunisia business directory listings, internet trading, marketplace searching, country area business line searching and business media.
Visit and enjoy the site
Tunisia Seek
, belonging to category
Tunisia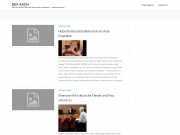 Related sites Tunisia Seek
Winoo
Tunisia guide site with news, hotels, searchable Tunisian web directory and more. Guide de la...
Bawaba
Tunisian administration portal, a unique access point for Tunisian public websites.
Tunisian Industry
Gateway site of Tunisian industry, summarizing advantages and incentives and containing a dynamic...