Similar Sites
Discover the best websites and explore competitor and related sites with Similarsites.com, the extension that enables you to browse associated content.
SimilarSites.com is an innovative Recommendation Engine that scours the internet to provide you with more of the content you love. SimilarSites.com cuts through the clutter of the web by finding similar sites to the ones you browse based on related content, web structure, link analysis algorithms, detailed user surfing behaviours and a large community of user rankings.
By using more than 20 unique similarity engines, our technology takes a snapshot of the inside and outside of a website. Once analyzed, we categorize the site with our huge index of data to help you get the very best and most relevant choice of results.
Visit and enjoy the site
Similar Sites
, belonging to category
Computers & Internet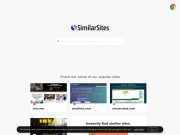 Related sites Similar Sites