OpenMD
A search engine that makes high-quality medical information easily accessible to everyone. OpenMD searches billions of documents from government agencies, global health organisations, medical journals, and reference sites.
Our approach increases the visibility of medical information from reputable sources; information that can often be lost in a muddle of commercial results and user-generated content.
Subscription paywalls are commonplace in professional medical reference. We recognise that unexpectedly running into those walls can be a headache. The OpenMD search prioritises freely-accessible content whenever available.
Visit and enjoy the site
OpenMD
, belonging to category
Medical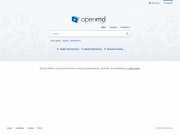 Related sites OpenMD