Kenya
Kenya Business List
Search for Kenya Companies in the Kenya Business List.
Add your free Business Listing.
www.businesslist.co.ke
|
Details

Brighter Monday Kenya
Brighter Monday is a job search engine for Kenya.
Take your next career step.
Search for jobs, read career advice and...
www.brightermonday.co.ke
|
Details

Jambonairobi
Information about living in Nairobi, including a directory.
jambonairobi.co.ke
|
Details


Kenyan Motor Industry
The KMI is the leading federation of companies in Kenya's formal motor sector, embracing distributors of all the...
www.kmi.co.ke
|
Details

Yellow Pages Kenya
Kenya Postel Directories Limited was founded in 1991, as a joint venture between Telkom Kenya and Directel, a...
yellowpageskenya.com
|
Details

Kenya Medical Directory
The Kenya Medical Directory and its online version are the leading Healthcare reference platforms in Kenya.
Provides...
www.healthcareinkenya.com
|
Details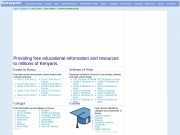 Kenya Plex
Providing free educational information and resources to millions of Kenyans.
Has a Kenyan business directory that...
www.kenyaplex.com
|
Details

Business List
Business List is a Kenya business directory that sells listings.
Users are able to browse the site by category and...
www.businesslist.co.ke
|
Details

Magical Kenya
An official travel and tourism guide by the Kenya Tourist Board.
The guide describes the attractions and provides a...
magicalkenya.com
|
Details

Agriculture in Kenya
Agriculture in Kenya guide by the agriculture media network.
This is an information portal and comprehensive...
agricultureinkenya.com
|
Details