Fireball
Fireball Labs GmbH takes over Fireball and all related assets from 2016 with a new design and completely new technology.
The site has its own 'Instant-Answer' technology and claims to have an approach not to spy on the user.
Fireball aims to deliver the answer the user is looking for quickly and precisely.
Visit and enjoy the site
Fireball
, belonging to category
Germany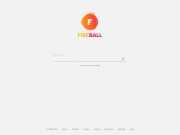 Related sites Fireball