Egypt

Yellow Pages Egypt
Egypt Yellow Pages is an online business telephone directory with local business listings, phone numbers and addresses.
www.yellowpages.com.eg
|
Details



Egypt Business Directory
Online directory of Egyptian firms with company profiles, press releases, tenders, jobs and management news. Join the...
www.egypt-business.com
|
Details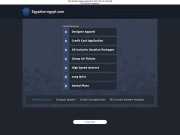 Egyptian Egypt
Directory for Egypt. Search and find companies in Egypt. The Business directory lists Businesses, Organisations and...
www.egyptian-egypt.com
|
Details

Egypt Search
Search engine for Egypt also has message boards about visiting and living in Egypt.
www.egyptsearch.com
|
Details