Australia


Black Stump
Black Stump Free Australian Directory and Portal. Also known as Beyond the Blackstump, the Aussie Supersite.
www.blackstump.com.au
|
Details

True Local
True Local is an online directory of Australian businesses with millions of people searching on True Local each...
www.truelocal.com.au
|
Details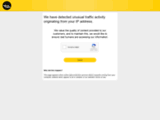 Yellow Pages
Australian business directory with over 1.7 million business listings.
You can search the Yellow Pages site to find...
www.yellowpages.com.au
|
Details

Tasmania Online
A comprehensive index to Tasmanian content on the World Wide Web and the official entry point for the State...
www.tas.gov.au
|
Details